Vitamin shots in Houston
Vitamin shots are the fastest way to give your body the boost it needs. At NeuMed in Houston, we offer a variety of different shots and injections for whatever your body is needing, including Biotin, Lipo-B, Vitamin B12, Taurine, and Vitamin D3 shots, and more.
Learn more about our vitamin shots below and book your visit today.
What are vitamin shots?
Vitamin shots, also known as vitamin injections or vitamin IV therapy, are a method of delivering essential vitamins and minerals directly into the bloodstream. They involve injecting a solution containing various vitamins, such as vitamin C, vitamin B12, and others, into a muscle (intramuscular injection) or a vein (intravenous injection).
Vitamin shots have gained popularity as a fast and easy way to quickly boost nutrient levels in the body. Many people who receive vitamin shots report numerous benefits, such as increased energy, improved immune function, enhanced mental clarity, and better overall health and well-being.
Our Vitamin Shots
We call our vitamin shots Neu-Shots which are easy, painless injections (into your arm or hip) that take less then 60 seconds to administer.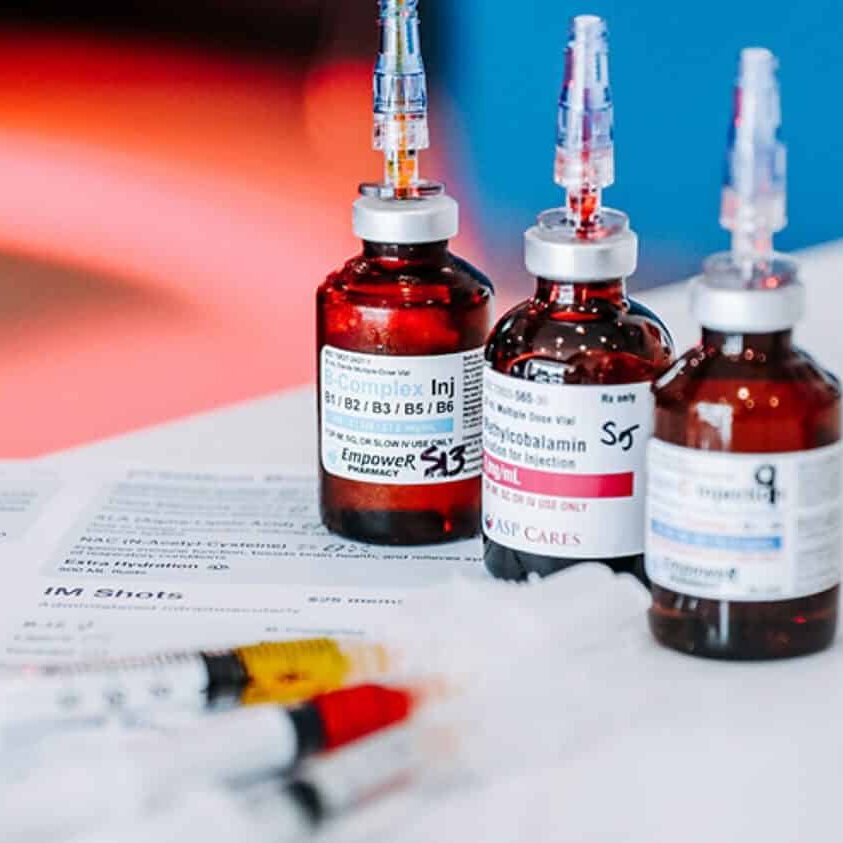 Feel the power of Vitamin D and live better, for less than $1 dollar a day with our Vitamin D3 Wellness Plan.
Vitamin shots provide a more direct and immediate absorption of nutrients into the bloodstream compared to oral supplements.
In most cases, a vitamin shot can be more effective than oral supplements. The body can absorb vitamins more efficiently through the bloodstream, and individuals with certain medical conditions, like digestive disorders, might not absorb vitamins well from the digestive tract. Vitamin shots can also provide an immediate boost of energy or nutrition.
The effects of a vitamin shot can be felt quite quickly, especially if the individual is deficient in the vitamin. However, the exact timing will depend on the individual and the specific vitamin.
Experience the NeuMed difference and book your next visit today